All School Exhibition Project Reflection
Jake Whirry and I have been rebuilding a single cylinder dirt bike. We have taken it apart to the very piston. The only challenges we have faced were hiding parts and the bike from other students. Some things that went well are we didn't break anything and no parts were lost. Some things that could have gone better was having the right tools and the right parts at the right time, but other than that we didn't blow up the bike or burn down the school and Jake and I still have ten fingers so we're good. Dirt how ever has gotten into some of the essential parts so some cleaning setbacks but there not that bad.
Powered by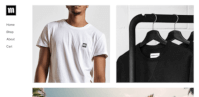 Create your own unique website with customizable templates.