My name is Kai M. Franken, Son of Tao and Cynthia Franken, and brother to Trina Franken.
I moved back to Durango Colorado this year because I couldn't stand Georgia and I wanted to come back home. I have blood and roots here. My father started his company here, made friends here, those friends became brothers, soon they became my brothers. I am happy to be here with my brothers and my family. Not just for the brothers and sisters I get to see again, but for the new brothers and sisters I have made since I got here, Shane, Jake, Susan, Raimy, Anika, Zeke, Maggie, Erin, and Anthony.
I am grateful to the man who saved my life, from myself. Shane Nelson Gave me a reason and a purpose to continue in school as a student not just a bystander that does nothing and doesn't care. I saw myself getting stuck in a loop with my life and the way I live. Shane was able to break that loop and help me get set on a path that doesn't go in a circle. Thank you Shane, I consistently made bad decision after bad decision until I met you and joined you class.
I would also like to celebrate the little puppy that I got. His name is Logan. He acts as like a tether between me and planet Earth. He doesn't know it but he is a reason I can hang on. I love that dog so much. When you have something that brings you back down to sanity and all you do is feed it, walk it, and love it. It makes you feel kind of selfish; especially when they don't even know that they do a job that is that important.
Academically I did really bad this year. I do believe that the skills that were asked of me to mostly perform this year we're not the ones that I am the best at. I was most asked to perform artistic or involving reading and interpreting. I don't do well with art, and I am a very bad reader. This also affected my math grade due to the fact that is was mostly word problems we were dealing with. I am very dyslexic and dysgraphic so writing and reading assignments are not where I do well. I work well with my hands, and numbers. I do well with construction and design projects. I work with cars, carpentry, and firearms. All deal with numbers words. I prefer a screwdriver then a book.
I do believe that I have some social issues and some unprofessional behavior issues. I am trying to work on these problems. I am not the most social due to the fact that I don't get along with most of the people at the schools I have gone to including this one. It's not my fault or theirs. It's just that some of my strong beliefs are their strong disbeliefs and I make my beliefs very apparent. I'm trying to choose my words more carefully in many situations that it my not be appropriate. It's a habit that is hard to break, but it will be broken and I have no doubt about that.
I sometimes wonder if it's possible for me to ever learn how to let go, to bury the hatchet, to put down the gun and let it rest, rust, and fade away. One thing I have trouble with is letting a problem or an idea go. I get so angry that I just keep clutching on to it. Sometimes it's like i'm holding on to an electric fence or a hot metal and I won't let go. It just burns and starts destroying me and by the time I let go it's too way to late. I wonder if can ever just learn to let go.
​
Powered by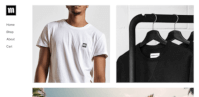 Create your own unique website with customizable templates.